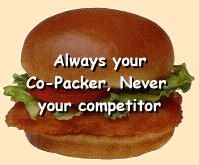 The ability to turn on a dime has been instrumental in the rapid growth of Royal Harvest Foods. By catering to customers of all types and sizes and giving each one a customized product, the firm has grown about 15 to 20% a year - enough to warrant first establishing and now expanding a second processing facility in Marion, Alabama.
The bulk of its business consists of creating private label and Royal Harvest brand products for distributors to market to HRI accounts. President Jim Vallides remarks, "Instead of our sales manager, Frank McNamara, going to a potential customer and saying, 'this is what we have to sell' - we'll have them tell us what they want, and will make them a signature product."
In some instances, the firm works directly with chain accounts. The chain then specs out the products to a distributor or to its own distribution system.
Royal Harvest also does work for other chicken processors, which does not usually involve creating finished products. Vallides explains, "We debone for them if they're short on labor or space in their plant. They give us the fronts and we give them back boneless meat, tenders and wings. Or they may have a new product they want to test market, and they can run it on our lines rather than tying up their own equipment with a small volume job."
Another sizable portion of the company's production is for industrial customers who want a certain cut or size that they will process further still. Says Vallides, "Those are the types of situations we like to get into- things that a larger processor may not want to or be able to do."
Royal Harvest's 40,000 square foot Springfield plant runs two lines, neither of which is dedicated. All the equipment is on casters to configure the lines as needed for whatever products will be running on a given day. Product can be fully cooked or blanched, natural, battered and breaded or unbreaded. Royal Harvest has no off-the-shelf-type products, Vallides points out, when someone brings us a product idea, "We have the ambition to get in there and try to do it, to work with their R&D people to see if it's technically feasible and fits into their cost structure."
Its versatility and narrow focus have kept Royal Harvest on a path of continual growth. The firm shrugged off a pair of too-small processing plants in Suffield before settling into its current home in Springfield in March, 1985. It still has laboratory facilities and a sales office in Suffield.
In January 1987, Royal Harvest grabbed a toehold in the Sunbelt and got closer to its suppliers (Marshall Durbin, Goldenrod Poultry, Peco Foods) by acquiring a former catfish processing plant in Marion, AL. The facility is only 15,000 square feet, but an expansion is under way to double that. "The plant in Marion is undersized for what we wanted to do," says Vallides, "but we thought we'd start conservatively and expand if it worked out as we hoped."
Strategic planning
Royal Harvest chose Marion after an extensive search, prompted by a tightening of raw material supply and rising transportation costs, Vallides notes. Management plotted out the locations of all the independent poultry processors ("the people we could count on buying from on a regular basis," he says) and worked with state development boards in South Carolina, Georgia, and Alabama to find a plant for sale.
Initially, the plan was to debone front halves and send all the production to Springfield for further processing. "Before we had the plant in Marion and I was pulling my raw material from the South, it was all bone-in," says Vallides. "I've cut my freight costs by at least 50% by doing the deboning in Alabama and shipping up the parts I need."
In addition, the Sunbelt connection has expanded Royal Harvest's horizons. Vallides notes that the firm is selling an ever-increasing amount of products like portion control chicken breasts, cutlets, specialty items, and fastfood-sized portions from the Marion plant throughout the South and will continue to further develop that market.
Jim's Father, Micheal, moved to Marion when the new plant began operations. At age 70, he's a perfect example of how people in the poultry business never really retire, says Jim. "He didn't have to move down there and he doesn't have to go into the plant every day. I have an excellent plant manager there, but my father is there anyway because he wants to be involved. It is nice to have a family member there."
Staffing the Marion plant was no problem, says Vallides. In fact, he remarks, "There is a more readily available labor force there than in Springfield, and the people there welcomed the jobs we provided." The Alabama facility has a cone deboning line, whereas deboning is done by hand in Springfield. The biggest challenge is getting people used to holding a knife, he observes.
Vallides acknowledges that although he wants to see Royal Harvest's growth continue, he'd rather be conservative and correct than liberal and in limbo. "We want to make sure we take the right steps," he says, "because paper and reality can be two different things."